"Having MESHDS scan our documents not only saves us space, but makes it easier for us to find old papers when they need to be referenced."
Emily Chung, Owner, AutoNiche
Why scan your paper files?
There are several good reasons to shift to an electronic document management system.
Declutter Your Office Space
Get rid of paper documents and box files that make your office look and feel disorganized.
Too many businesses spend precious time, money, and space maintaining a paper-based system that is difficult to manage and delays the flow of information. Document scanning allows you to get rid of the paper trail and grants you instant access to the files you need. By digitizing your important documents, you're able to more easily capture, organize, and access the information you need, and you can free up valuable space.
Prevent Information Loss
Mitigate the risk of lost or damaged documents.
If you've only got one hard copy of your most important documents, you're putting them at risk to get lost, stolen, misfiled, or physically damaged in some way. With a secure digital copy, you never have that issue. Document scanning virtually eliminates this risk that accompanies paper documents. Scanned and stored documents are uploaded to the cloud and organized effectively for easy retrieval to ensure smooth business operations as well as disaster recovery.
Protect Sensitive Documents
Protect sensitive information from getting lost or stolen.
Confidentiality and security matters to us. A major disadvantage of outdated, paper-based systems is that they allow for very little document security. And when sensitive information is compromised, it can lead to significant financial and legal implications. An electronic document management system is an easy solution because you can easily assign different roles and levels of security to specific documents. Digitizing documents in a secure system ensures confidentiality. You can also audit a document's history to review changes as well as users who have accessed the file.
Improve Collaboration
Easily gather input and collaborate on projects with our document management solution.
An updated document management system would allow instant access to important documents, so you and your colleagues can work together in real-time to develop ideas and get work done together. A business that is tethered to a paper system will require in-person meetings and the distribution of multiple hard copies to team members. Similarly, electronic files can become cumbersome when multiple versions of the same document exist. However, our electronic document management technology allows you to work together in real-time on the same document, either in the office or from a remote location. This allows you to focus less on distributing and managing the flow of information and more on producing quality work.
Work Remotely
Experience greater flexibility and productivity that comes with remote document access.
As business processes change, employees increasingly value the freedom and flexibility to work remotely. You should have secure access to your information everywhere. Remote access allows your team to waste less time on travel and to balance personal situations as they arise with their professional projects and deadlines. An electronic document management system allows team members to access information and update important documents as well as participate in collaborative meetings and projects. Our software ensures continued security and access from any device.
Quickly Access Important Information
Retrieve the document you are looking for in one easy click.
Many businesses spend a lot of time making copies of documents and filing them away only to realize that they will have to spend even more time and energy to retrieve those same documents when they need them. That's because paper systems are difficult to control, especially as files are moved around and misplaced. Digital information doesn't pose the same issue. An electronic document management system is more reliable because the files you need will never disappear. Each one is categorized and stored using a proven system that ensures quick and easy retrieval. Plus, you'll save money since you won't be wasting time searching for the right documents.
The Document Conversion Services Process
We guide you through the entire process of implementing a document management system that is right for your business needs. This includes the consultation and planning phase, integration, and follow-up support services.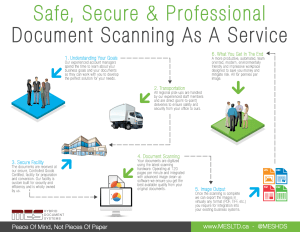 Why do companies choose us?
We provide a seamless transition to an upgraded document management system that will help businesses streamline their workflow and create synergy.
Experience
Since 1971, MES Hybrid Document Systems has worked with hundreds of clients and digitized more than one billion images. Our expertise in document conversion, organizational systems, office automation, and regulatory compliance has made the daily operations of our clients significantly easier and more successful.
Comprehensive Support
Our team provides expertise and support throughout the entire process of designing and implementing a document management system that is right for you. This takes out the guesswork and the stress that comes with any type of change. We're here to ensure a seamless transition to an upgraded system that will improve the way you do business.
Peace of Mind
As we work with clients to integrate systems that will revolutionize their operations, we keep two key tenets in mind: security and process. We follow a strict "chain of custody" process as documents are converted to a digital format at our federally certified facility in Markham, ON. This process carefully monitors client files throughout the entire conversion process so that files can be audited or quickly retrieved.
Versatility
In our 40 years of experience, we've converted all types of documents, from round paper to a document that was almost 400 feet long. We've seen it all, and we can handle any document scanning project. We work with clients from a variety of industries, including manufacturing, financial services, medical records, and many others.