Do you need help taking your patient files digital?
Our secure process allows you to focus on providing outstanding care to your patients, while we quickly and accurately scan your files to make your healthcare records paperless.
Contact Us Today
"Best post-sales support I have ever experienced."
Charlene Ley, Director of Health Records, Registration & Privacy Services, Orillia Soldiers' Memorial Hospital
Are you ready to go paperless?
With an increasing need for digital medical records, now is the time for medical organizations of all sizes to go paperless. No matter if you are a hospital, a small clinic or a single healthcare provider, electronic medical records implementation is available and can help make you more efficient and better integrated with your EMR software.
Some benefits of electronic medical records include:
Improved workflow and customer service
Seamless access to patient records
Increased availability of important records
Faster retrieval of files
Far less storage space is required for your documents
Why our solutions matter
Converting your medical records to digital files can reduce stress while helping to save you money and time – and when it comes to medical emergencies, those crucial seconds could be life-saving. When you choose us to help scan your healthcare records, we'll show you:
How going digital can benefit your health organization
The best way to scan your documents
How to properly integrate with your EMR software
Research shows that 56% of primary care physicians in Canada have already been using electronic medical records since 2012. So what are you waiting for? From paper files to microfilm, we have the experience and solutions to help your organization go paperless.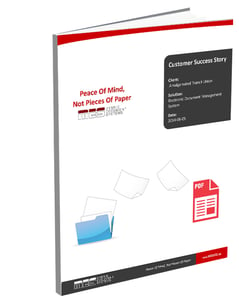 Case Study: Orilla Soldiers' Memorial Hospital
Learn how OSMH was able to digitize their paper and microfilm records to improve patient experience.
Why do companies choose us?
Having the right information available at the right time is the key to success. We bring the power of your information to your fingertips.