Solutions custom-tailored for your business
MES Hybrid Document Systems offers a comprehensive range of scanning hardware solutions whether you need to scan the occasional document or your whole collection. With scanners that can convert standard documents, cheques, books, microfilm and microfiche we've got you covered.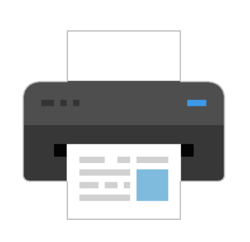 FREE TIP SHEET
4 Common Questions (And Answers) About Document Scanning
"Best post-sales support I have ever experienced."
Charlene Ley, Orillia Soldiers' Memorial Hospital
Production Scanners
High volume, high speed, high durability document scanners
Production scanners are the "workhorses" of the document scanning world. When we talk about production scanning we mean scanners that operate at over 100 pages per minute. These scanners are highly durable, require minimal maintenance and have extremely high duty cycles. What does all this mean? Simply put, you can scan a lot of paper, very quickly with minimal downtime. If you need to scan thousands of documents a day into electronic images, you should consider a production scanner.
Departmental Scanners
High-speed scanning at a departmental and workgroup level
Departmental scanners are fast, easy to use and able to scan a few thousand pages per day. When we talk about departmental scanning we mean scanners that operate at between 50 and 80 pages per minute. These scanners are fast, require minimal maintenance and produce extremely high-quality images. What does all this mean? Simply put, you can great beautifully scanned images from thousands of documents every day.
Workstation Scanners
Professional document scanning right at your desk
Workstation scanners are cost-effective scanners that allow for high-speed scanning. Workstation scanners are typically found scattered throughout a department. They are ideally used in applications where individual employees are responsible for scanning their own documents. While not as fast as departmental scanners, workstation scanners come with a more aggressive price point and can be deployed to more employees.
Zeta Book Scanner
Non-destructive, easy to use, bound book scanning
The Zeta is a plug and go non-destructive book scanner, delivering high quality data with the highest resolution. Your scans never looked this good! Ideal for libraries, schools, archives or offices, the Zeta book scanner allows you to save your scans quickly on a USB key, reducing paper usage and helping to go green – and stay green.
Cheque Scanners
Scan cheques quickly and easily with this high-speed scanners
Cheque scanners are specifically designed to scan… Well… Cheques! Converting your paper cheques into useful digital images. Cheque scanners are often found in larger organizations that wish to scan their cheques prior to depositing them as well as credit unions and banks. In addition to creating high-quality digital images, these scanners can also automatically read the cheque's MICR information for indexing and stamp cheques using the built-in imprinter.
Wide Format Scanners
Great for large format drawings, posters and documents
Not every piece of paper is created equally! When you're dealing with documents over 11″ x 17″ you need a wide format scanner. Wide-format scanners help to image enable your construction, facilities and engineering workforce by converting cumbersome large documents/drawings into digital images that can be viewed anywhere, anytime. These scanners feature fast scanning speeds and high-quality reproduction in black & white, greyscale and even colour. If you're tired of fumbling with large documents and drawings you should consider a wide format document scanner!
Microfilm and microfiche scanners
UScan Film Scanner
A user friendly on-demand scanner for microfilm, fiche and aperture cards
The UScan embodies economy of scale with its ability to read/scan/print/email and save images from roll microfilm, microfiche, aperture cards and photographic materials. Taking the place of four separate scanners – and scanning in color, bi-tonal and greyscale – the compact design and multiple-use functions of the UScan create an ideal unit for walk-up patron/on-demand use.
Mekel Rollfilm Scanners
For batch conversion of your rollfilm collection
Mekel rollfilm scanners are designed to quickly convert your entire microfilm collection into useful digital images. They are easy to use, reliable and can scan an entire roll in under 3 minutes! The Mekel scanners come in 4 different variants (MACH 3Q, 5, 10 and 12) to meet your needs and budget.
Mekel Microfiche Scanners
Stop wasting hours printing your microfiche!
The Mekel MACH 6 and 7 scanners will make digitizing your microfiche quick and easy. Designed to accommodate various microfiche, aperture card and microfilm jacket formats, both scanners create superior image quality at high speeds (up to 200 images per minute) from even the most difficult film.
What to look for in a library book scanner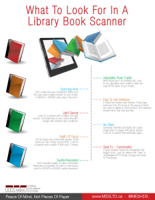 What to look for in a microfilm scanner