"MESHDS took the time to understand our needs and show us around the facility when we came to drop off the documents, which we appreciated."
Emily Chung, Owner, AutoNiche
Solutions custom-tailored for your business
Since 1971 our goal has been to help companies large and small manage their information better, through the use of document management and document scanning services, without bias towards in-house or outsourced solutions. Our ultimate vision is to help organizations who are frustrated because of service delays caused by slow record retrieval, are unhappy with the space required for document storage or who struggle with sharing information across team members.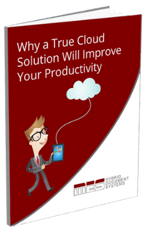 FREE EBOOK
Why A True Cloud Solution Will Improve Your Productivity
Document Scanning
Fast, secure and affordable document scanning services
Our state of the art document conversion facility provides clients with secure, high-volume, scanning services to help transition from a paper intensive workplace to a paperless office. Whether you want to convert a file room full of paper records or scan your documents in real-time to support electronic workflows, we can help.
Document Management
Solutions designed to help manage and automate the workflow of your files
Bringing a level of security and accessibility, not offered by shared network drives, our document management solutions help organizations manage their electronic collections and automate document workflows.
Microfilm & Microfiche Scanning
Convert your legacy information into useful digital data
Whether you have rollfilm, microfiche, jackets or aperture cards we can help you transition your historic records into electronic images that can be instantly searched and shared throughout your organization. Our secure microfilm scanning department has the capacity to scan almost a million images a day resulting in lower costs and faster turnaround times.
Paper & Microfilm Scanners
Hardware solutions designed to meet your scanning needs
Want to bring your scanning in-house? We can help! Whether you need to scan from paper, microfilm or microfiche we have the technology available to tackle any size scanning project with ease.
Hardware Support
Maximize your up-time with our professional maintenance plans
Our factory-trained service technicians are available to service a variety of document scanning and micrographic hardware. Whether you're looking for assistance on an as-needed basis or the peace of mind of an annual protection plan, we're here to help.
Why do companies choose us?
Having the right information available at the right time is the key to success. We bring the power of your information to your fingertips.