We are experts in microfilm conversion
MES Hybrid Document Systems is Canada's leading provider of scanning services for microfilm, microfiche, and aperture cards. We consistently scan thousands of images from microfilm every month. We are trusted because we take great care in converting historic microfilm records so they are accurate and convenient to access from virtually any device. Each conversion project is handled with the utmost precision using our state-of-the-art microfilm scanners to protect all the images captured on microfilming equipment.
Free Guide
28 Questions to Ask to Avoid Chooseing A Poor Microfilm Scanning Provider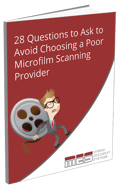 "Working with MESHDS was a good experience with low stress involved. With so many options to meet our needs they put my mind at ease right away."
Liam Artt, Manager of Information Technology, Halton Children's Aid Society
Why scan your microfilm records?
There are several reasons why organizations decide to scan their microfilm, microfiche, and aperture cards.
Preserve Historic Records
Backup or replace microfilm and microfiche files before they deteriorate.
Microfilm and microfiche records weren't made to last forever, and when subject to inadequate storage environments, they can erode even faster. Now is the time to convert microfilm records and images before it's too late. Scanning your microfilm collection will help you preserve important information and historical records with high image quality.
Prevent Information Loss
Mitigate the risk of lost or damaged documents.
Each roll of microfilm is an irreplaceable asset. But it can be lost forever if it's not been digitized. If your most important documents exist on microfilm or microfiche, you're putting them at risk to get lost or damaged. Microfilm scanning virtually eliminates this risk by capturing high-quality images. Scanned documents are stored in the cloud and each digital image is organized effectively for easy retrieval and document protection to ensure smooth business operations.
Update Your Brand
Manage public perception of your company by updating your technology and data management system.
If you're trying to compete in this cloud-based, document-sharing, social media-tagging business world, then it's time to get rid of antiquated technologies like microfiche and microfilm. It sends a message to prospective clients and potential hires that your company is outdated and unable to adjust to new innovations. On the other hand, embracing state-of-the-art technology will ease communication and workflow while building your reputation as an industry leader and trendsetter. Scanning and imaging each roll of microfilm means you're moving your brand forward into the future.
Quickly Access Important Information
Save time searching through your microfilm records for the information you need.
To be effective, you need a document management system that allows for the quick and easy retrieval of the information you need. Unfortunately, microfilm and microfiche records aren't designed for easy access. It could take hours to find the document you need, load it onto the reader, pinpoint the right image, and then make copies. Microfilm scanning converts those same documents into a digital system that makes it easy to catalogue, store, and retrieve information—all with a few clicks of a mouse.
Work Remotely
Experience greater flexibility and productivity that comes with remote document access.
If you're working with microfilm records and the equipment required to load and read those documents, you're stuck in the office until you find what you need. It's time to convert microfilm to digital images that are ideal for remote work and collaboration. Microfilm scanning gives you the freedom to access and share those same documents from anywhere, using any device.
The document scanning process
We guide you through the entire process to provide products and services that are right for you. This includes the consultation and planning phase, integration, training, and follow-up support.
Understanding Your Goals
The first step of a successful microfilm/microfiche scanning project is understanding where you want to end up. Our experienced team works with you to understand your goals, searching requirements and much more. Once we understand where you want to go we can develop a customized solution to help get you there.
Transportation
All regional pick-ups are handled by our experienced staff members and are direct (point-to-point) deliveries to ensure safety and security from your office to ours. For out-of-province clients we use secure, bonded, courier services with the option of next-day delivery to minimize the time your records are on the road.
Scanning
Your microfilm is digitized using the latest scanning hardware. With the capacity to scan over 800,000 images a day from microfilm and integrated with advanced image clean-up software we ensure you get the best available quality from your film collections.
Indexing
Having scanned images won't do you much good if you can't find them quickly and accurately. We index your documents so they are fully searchable and easy to locate, bringing the information you need to your fingertips when you need it.
Return
Once your project is complete, we can return your scanned images on a hard drive, memory key, CD/DVD, secure FTP our secure cloud storage. We can also return your original microfilms or destroy them using our in-house disintegrator.
Why do companies choose us?
We provide a seamless transition to an upgraded document management system that will help businesses streamline their workflow and create synergy.
Experience
Since 1971, MES Hybrid Document Systems has worked with hundreds of clients and digitized more than one billion images. Our expertise in document conversion, organizational systems, office automation, and regulatory compliance has made the daily operations of our clients significantly easier and more successful.
Comprehensive Support
Our team provides expertise and support throughout the entire process of designing and implementing a document management system that is right for you. This takes out the guesswork and the stress that comes with any type of change. We're here to ensure a seamless transition to an upgraded system that will improve the way you do business.
Peace of Mind
As we work with clients to integrate systems that will revolutionize their operations, we keep two key tenets in mind: security and process. We follow a strict "chain of custody" process as documents are converted to a digital format at our federally certified facility in Markham, ON. This process carefully monitors client files throughout the entire conversion process so that files can be audited or quickly retrieved.
Versatility
In our 40 years of experience, we've converted all types of documents, from round paper to a document that was almost 400 feet long. We've seen it all, and we can handle any document scanning project. We work with clients from a variety of industries, including manufacturing, financial services, medical records, and many others.
Experience Matters
We've been in business for over four decades.
In business since 1971
Experience with a number of clients in various industries
Track record of more than 12 million images scanned each month
Secure conversion facilities
A reputation of excellence in quality software and customer service