"Working with MESHDS was a good experience with low stress involved. With so many options to meet our needs they put my mind at ease right away."
Liam Artt, Manager of Information Technology, Halton Children's Aid Society
Ensuring access to your critical documents
Are you looking for help to ensure you meet your CPIN implementation deadlines? Our document scanning for case files service allows your staff to focus on important case work while we focus on quickly and accurately making your critical documents more accessible.
Contact Us
Secure, accurate and dependable document scanning for case files has never been more important.
Child care modernization has become a focus of the Ontario government, which has been exhibited through the roll out of the Child Protection Information Network (CPIN). The CPIN is a modern information sharing system to be used by child protection services across Ontario in order to better manage case and financial information. This change in child care modernization will allow data to be shared across Children's Aid Societies quickly and efficiently – giving employees access to critical information in real-time.
Our document scanning for case files can help your organization prepare for the migration to the Child Protection Information Network. We're the market leader in digitizing closed and active case files and have been trusted for over 40 years to convert paper, microfilm, microfiche and over one billion images with class-leading document and records management solutions.
Our document scanning for case file solutions can safely help digitize, index and manage your hard copy case files. We take utmost care in securely handling all sensitive documents like historical child welfare files, disposition reports or risk assessment and safety plans. From initial transportation of the files to the scanning process and disposal, your child protection documents will be in safe hands.
Scanning your documents and managing them digitally can provide many benefits. Instead of sorting through boxes of files, what if all your important documents were only a keystroke away? Digital files can help save both time and money. Automating business processes and easily sharing content are two great benefits when it comes to increasing productivity and efficiency. Proper document scanning and management can improve the way your business functions, allowing more time for your caseworkers to focus on their clients. We've already helped various organizations experience the benefits of going paperless, including several of Ontario's largest Children's Aid Societies in varying capacities.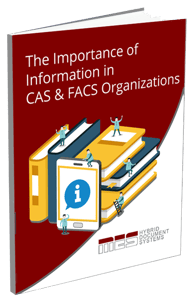 Free Ebook: The Importance of Information in CAS & FACS Organizations
Improve the way your organization manages confidential information in critical situations
what to expect
Working with us
Improved access to paper and electronic files
Increased level of safety and security for clients
Better organization of important documents
Cost savings, including improved case worker efficiencies
Emergency access to files during scanning process
Why do companies choose us?
Having the right information available at the right time is the key to success. We bring the power of your information to your fingertips.